With a foundation that has 110 unique shades, we're here to share some tips and tricks of finding your perfect shade from this unique company.
Step 1
Take the Quiz
Mongoose & Mink offers some shade sample sets so you can find your exact shade of foundation before buying a full bottle. The shade depths are: Very Fair, Fair, Light Medium, Medium, Deep Medium, Dark and Deep Dark.
If you're wondering which shade range you fall into, try out 110 Shades great quiz which can help you decide on your shade depth and undertone by going here.
Step 2
Get the Sample Pack
Now that you've got an idea of shade depth and undertone, head on over to the Foundation Samples & Gift Packs product page. Buy only the samples or get the samples with a voucher to redeem a free full-sized bottle once you've found your perfect shade.
You can get a Foundation Samples & Gift Packs for free when you buy one of our bundles! Check out these great deals by going here.
Step 3
How to test 20 shades
We highly recommend using your camera in daylight conditions to capture the shade differences more easily. Here's our step by step guide:
Swatch 5 shades on your lower cheek using your finger on clean skin increasing in shade number from your ear to your lips.
Take a photo of your cheek straight on. Make a note of the lighting conditions and each shade in the picture set for reference later.
Brighter Shots



Understanding and finding your real undertones is important to get a naturally flawless finish and radiate under the spotlight!
---
The Foundation Samples & Gift Packs product comes with a pamphlet that includes a shade observation tracker and shade chart to see how shades are organized. We've added the shade chart below for your reference: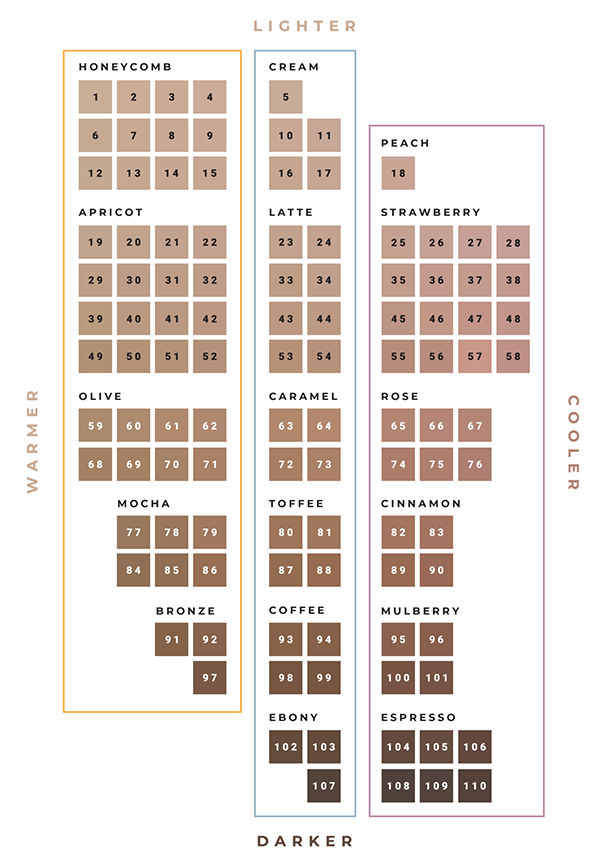 Light vs Pigments
When creating a foundation, it starts with a neutral base and we add pigments to produce golden and rosy undertones. As pigments are added the formula naturally becomes darker. However, a warm undertone may appear brighter under more intense yellow light since it reflects golden hues better.